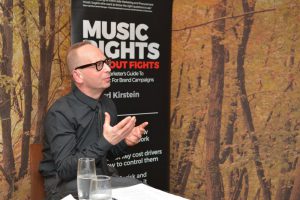 After many weeks of planning, we had the launch party for Music Rights Without Fights at The Hospital Club on 9th February. It was well -attended with a great mix of clients, partners, friends and family. The guests included legendary songwriters Bruce Woolley ("Video Killed The Radio Star") and Mark Levin ("Perfect").
I'm also extremely grateful to our Peroni clients who provided all the beer! The Hospital Club events team managed the party with their usual slick professionalism.
Before the book signings, we had a short Q&A session moderated by highly respected media journalist Juliana Koranteng. The goal here was to provide some insight for the guests on why I wrote the book and the key messages within it. Here are the highlights:
 Music Rights Without Fights Q&A
What made you want to write the book and why do you believe it is vital reading for the international advertising and marketing community?
From my professional experience acting for both licensors and licensees, I've frequently witnessed recurrent problems arising from a lack of mutual respect and understanding. I wanted to drill down into this apparent culture clash between the music industry on one side and brands & agencies on the other. The book therefore addresses a need to educate brands on how music rights work with simple practical steps on how to license them.
In the book you succinctly but clearly explain how the very complex world of recorded music and music publishing rights work? Why does an advertiser using today's equally complex multi-platform media need to understand any of that?
Understanding separate rights in songs & recordings is essential irrespective of the media in which brands use music. However, where once media was simple: TV, Radio, Cinema; now, it's far more complex with an ever-changing set of platforms at brands' disposal to engage audiences – Hence the need to understand how to structure deals better.
When things go wrong for the advertisers, how bad can it get and how does your book offer a way out for untangling themselves from the problem?
Frequently global marketing teams buy 3rd party rights for online video or above-the-line campaigns, but the actual assets are used by autonomous local brand teams. So there's significant scope for unlicensed use by brands which is why rights owners are especially vigilant. Catching unauthorised use has become a significant income stream for them. In the worst cases, rights owners litigate in response to copyright infringement; a well-documented example being Beastie Boys vs. Monster Energy Drink. My book offers advice on how to minimise the risk of these problems occurring.
Do you think the contrasting music industry/advertising industry cultures will ever understand each other? Or must advertisers accept that if they want the right music for their campaigns, there will always be a price to pay. But it needn't be more expensive than it should be?
Mutual understanding is improving – but sometimes there's still an element of "don't you know who we are?!" exhibited by both camps. Of course, there is always a licence fee to pay by the licensee to the licensor, but how brands approach sourcing music significantly affects the number. The book provides an explanation of cost drivers to empower brands to act smarter.