I once worked on a TV campaign for a big financial services brand.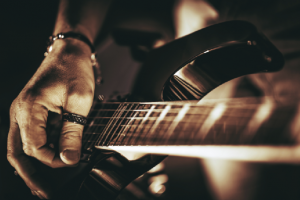 (You'll have heard of them, so I'll spare their blushes by not divulging the name…)
And quite quickly after starting work on the campaign it became clear that they had their heart set on a track by a very famous "heritage" artist.
(You'll have heard of him too!)
There was one snag though.
The licence for the track was eye-wateringly expensive, so much so that it would have blown the budget and derailed the whole project.
We repeatedly suggested cheaper alternatives, but every single one was rejected out of hand.
It got to the point where even the creative agency producing the campaign started trying to persuade the client to reconsider, quite rightly highlighting the fact that the artist's fan base didn't even align with the brand's target audience.
But it was all to no avail – the brand's marketing director was so entrenched in his view that he wouldn't take no for an answer, and ended up "finding more money" to fund the track.
And a few days later, it all became clear.
As it turned out, the brand's PR agency had lined up additional activities with the artist – PR duties, meet and greets and the pièce de résistance: a special performance attended by the brand team and a photo op for the marketing director and the CEO.
The marketing director loved the artist so much, that he was prepared to put his professional judgement on hold and inflate the project costs just to meet the artist.
He'd been seduced by the glamour, and there's a big lesson to be learnt here.
Music rights owners know full well that brand marketers can be seduced by the glamour of music, and they regularly use that knowledge to drive up licence fees, with offers of gigs, VIP access and backstage passes.
Knowing that this is how the game works, and remaining rational in the face of the hype and the glamour will avoid you making an expensive mistake.